From reality TV to YouTube paparazzi videos to good ol' celebrity columns, everyone is into everyone else's business – including their actual business. But curiosity about other people's salaries is not just idle gossip, because knowing what your peers are making is essential for your own professional expectations.
However, you can't just walk up to a top software engineer working at a leading company and ask them if they're open to a better position or what their salary expectations are.
So that leaves most people in the dark when it comes to asking for and evaluating their next salary offer.
Here at Woo, we found a way to remove the guesswork. Software engineers from dozens of major tech companies shared with us their salary expectations for their next job. The information was given anonymously, so everyone – software engineers and companies alike – can benefit from it.  
The Woo wish list: A unique data source
When candidates sign up with Woo, they fill out a detailed "wish list" of their expectations.
The parameters vary from the city they want to work in to the technologies they want to work with to the salary they want to earn. This data is incorporated by Woo's matching algorithm, and based on these expectations, candidates get matched with opportunities.
This data makes a big difference both to professionals and the companies that hire them because it is rationalized and discreet.
Woo CEO and cofounder Liran Kotzer explains: "Once they set up their wish list with Woo, they are going to get opportunities from companies that meet their requirements. Otherwise they will not hear from us."
How software engineers benefit from the data
You can apply this information to an efficient job search and get the results that actually match your qualifications.
Use this data to adjust your demands, realize that you could be doing better, or feel reassured that you are getting your worth.
Without further ado, here are the salary expectations of software engineers at today's leading tech companies: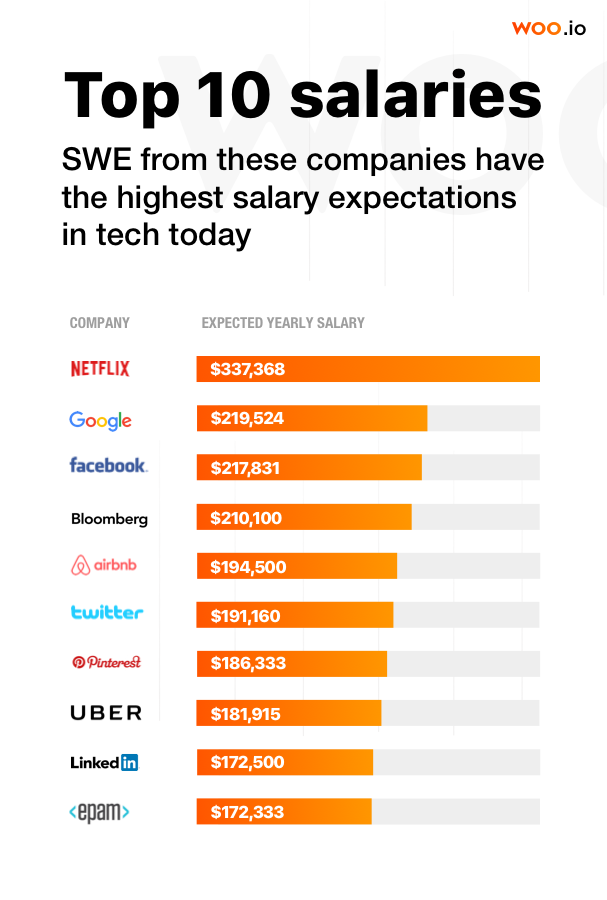 Get more insights about your worth
In the above table, software engineers are not just wishing. These are actual salary targets of Woo candidates as part of their profile.
The Woo matching algorithm gives all expectations, including salary expectations, the same weight as skills and experience. So candidates will only receive notifications of opportunities if there is a match across the board between their expectations, skills, and experience, and the company's offer.
The advantages of discretion
No one else has been able to gather such reliable insights into software engineers' true salary expectations, due to the "exposure" factor. That's where Woo's anonymity plays a role. Candidates are more likely to share their honest expectations when they know it's truly anonymous. Only once a match has been made – meaning, both sides are interested – can the company view the candidate's desired salary.
"On the employer front, it helps companies engage with people who are considering looking for a new job, but aren't ready to come out of the shadows and risk being seen by their current employers," says Kotzer. "Woo is a great channel for employers because candidates are – anonymously – telling companies how to pull them away from their current jobs."
Information flow is good for everyone
Aside from helping software engineers discover their market worth, this salary data serves companies' interests in a big way. It indicates what the best employees expect from their current employer upon promotion. It shows what other firms might be offering, so companies can gauge the competitiveness of their salary. Companies can also use this information to win by adjusting coders' salaries in order to attract top talent.
Woo specializes in connecting experienced tech professionals who are discreetly exploring new opportunities to companies with the right job for them . Its machine learning technology matches criteria from both candidates and companies, resulting in an efficient process and the highest conversion from introduction to interview in the market.  Since 2015, Woo has worked with more than 500 customers including Lyft, WeWork, MongoDB and Quora successfully bringing them quality hires. 
To learn more, please visit: woo.io