With their software powering the last 15 Academy Award winners for Best Visual Effects, Autodesk 2D and 3D design solutions deliver the innovation they promise their customers in the manufacturing, construction, media, and entertainment markets. So it's little wonder that Autodesk developers describe their workplace as creative and dynamic.\
We spoke with Einat Lerner, Talent Hunter and Recruitment Specialist at Autodesk, to find out how Autodesk reaches top tech talent and brings them on to their innovative team.
How Autodesk Recruited Prior to Woo
"Sourcing talented candidates on a limited HR budget and HR staff was becoming a challenge. Time to hire [TTH] candidates was averaging 3-6 months, even with a variety of sourcing strategies."
Their sourcing strategies included an in-house recruiter, an employee referral program, and external recruitment agencies, among other traditional methods.
The Challenge Continued…
Tech design companies around the globe are vying for the same engineers. The competition is stiff, so it was crucial that Autodesk find a way to convey to applicants what sets them apart.
"With 20 front- and back-end developer positions to fill, from junior through senior level and managerial roles, we were trying to attract candidates with the same skill sets as every other tech company. We also needed to reach software engineers that might be dismissing the company because of its size and corporate nature. It's a competitive market."
Even though they are not a small startup, Autodesk prioritizes employees' personal and career development, offering digital design opportunities for web, mobile, and cloud platforms. It was so critical for them to get this message across to engineers that they launched a full rebranding campaign to that effort.
How AutoDesk Uses Woo
"We decided to activate a Woo account, because we understood it would help cut our time to hire."
AutoDesk set up a Woo API so the leads came directly into their Comeet hiring platform. This synchronization saved their recruiters valuable time, allowing them to work within a single system for candidate sourcing and screening, without jumping between platforms.
We asked Autodesk, once you were on Woo, how did you reach the right engineers for the job? They explained:
"Woo gives me candidates that have already agreed to reveal themselves to me. It gives us the power, which is nice as a recruiter. Beyond that, it gives me access to people who are looking for something new but aren't really 'out there,' so I may not find them another way."
Having unique access to qualified, passive candidates who have already expressed interest in their open positions was key to cutting down Autodesk's TTH, since the candidates they contact are ready to start the hiring process right away.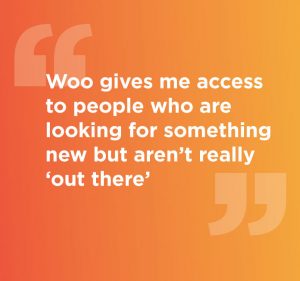 AutoDesk Results with Woo
Success #1:
Senior IOS Developer hired within a month of activativing Autodesk's Woo account.
Bottom line: Significant TTH improvement
Success #2:
Senior Front End Developer hired. He was passively seeking employment and expressed interest in Autodesk via Woo.
Bottom line: Saved resources by eliminating the months and manpower it would have taken to find him using other methods.
Autodesk explains why the Woo service is unique:
"We don't get as many candidates from Woo, but the ones we get are really good. Woo doesn't waste my time the way other platforms do. That's the best added value."
We asked them, what else do you like about Woo? Would you recommend Woo to other companies?
"Communication with Woo's customer support is great — if I pick up the phone I get a response immediately. I always recommend Woo to others. It's so easy to use and offers me a great benefit. I only recommend things I believe in."
Get a healthy pipeline and generate more hires with Woo.io >>