In an industry full of constant change, there is nothing more critical than understanding top-talent and what they desire if they were to change roles/companies.
Along with tech stack, emerging technologies, and salary, location is one of the most important factors when a candidate is evaluating opportunities.
According to Woo.io data, Since 2015 there has been a drastic change in trending cities – looking at 'the where' is just as important as 'the why' – let's break it down.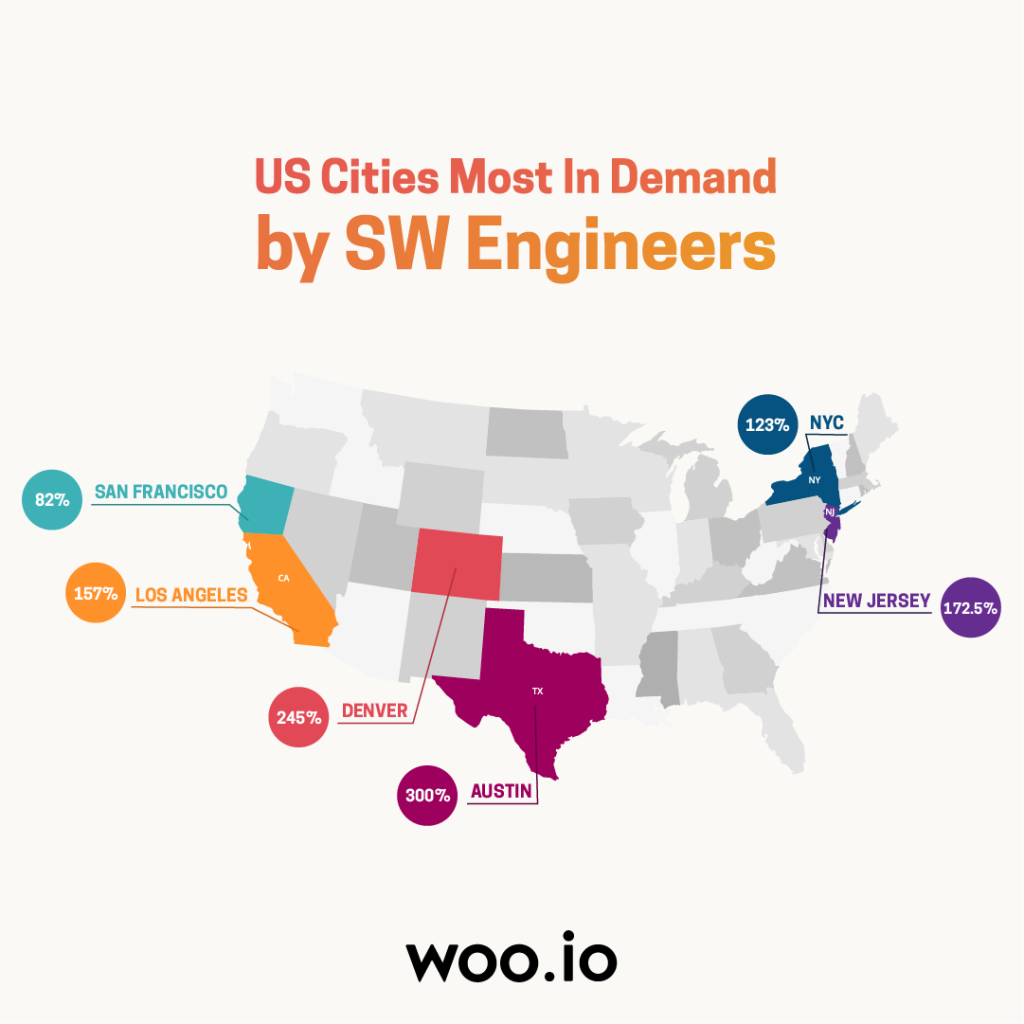 Austin
Deep in the heart of Texas! Outside of the "fun" you can have at outings such as SXSW and Austin City Limits, Austin has a lot more to offer and given Woo.io data showing a 300% increase in candidate interest between 2015-2018, that is pretty evident.
Austin has a low cost-of-living relative to income, meaning you can get a lot more "bang for your buck" than in other cities. On top of this, the tech market has only continued to grow.
In addition to popular startups such as HomeAway, and LegalZoom, many large tech companies such as Dell, IBM, and Google have offices in the area.
If this isn't enough to draw interest, Texas has no state income tax, a large appeal to those looking to pocket a few extra bucks.
Denver
The Mile High City! According to Woo.io data, there has been a 245% increase in interest between 2015-2018. What potential candidates see: lower cost-of-living, lifestyle (hikes in the summer, skiing in the winter!), and diversity of industry.
Denver not only has immense opportunity in the tech space at companies like Slack, Gusto, and Google, but also in government contracting, oil and gas, and finance!
Los Angeles
The City of Angels! According to Woo.io data, there has been a 157% increase in interest between 2015-2018. Like the cities listed above, there are many great companies in the area including Snap, Google, Bird, and many other media-based startups.
With the year-round amazing weather, alluring food and lifestyle, it's hard not to be drawn to LA.
New York City
The city that never sleeps, which is evident from the constant opportunity afforded to candidates! There has been a 123% increase in interest for NYC between 2015-2018 and with Amazon adding an HQ2 in the area, interest may have not yet reached its peak.
NY is a "classic" and like Denver, also offers a diversity of industry, which inherently provides more stability for those in the area.
San Francisco
Lastly, San Francisco, the tech hub of America. Based on data collected by Woo.io, there has been an 81% increase in interest between 2015-2018.
While this increase is lower than the other locations of interest, SF is still very appealing to candidates, especially those looking to catapult their career in tech.
With most of the enterprise tech companies as players in SF, the talent pool is quite large and the opportunities are plentiful at large, medium, and small companies.
The Bay Area also offers amazing networking opportunities and a chance to truly enhance your career.
Many tech companies are starting to hire in desirable locations like Austin, Denver, and LA in addition to their core offers in NYC and Bay Area. Getting ahead of the curve and knowing the desirable locations for top-talent will allow you to not only hire the best, but save money in the process by hiring in lower cost of living markets. Hire on!
---
Woo specializes in connecting experienced tech professionals who are discreetly exploring new opportunities to companies with the right job for them . Its machine learning technology matches criteria from both candidates and companies, resulting in an efficient process and the highest conversion from introduction to interview in the market.  Since 2015, Woo has worked with more than 500 customers including Lyft, WeWork, MongoDB and Quora successfully bringing them quality hires.
To learn more, please visit: woo.io
.