Thanks to social media and the fact that almost everything is connected, it is not uncommon for us to have a peek into the life of everyone we know—or do not know for that matter.
However, the one thing that most people do not easily share is their salary.
Because it can be difficult to know what our peers make, it leaves most people in the dark when it comes to asking for and evaluating their next salary offer.
Luckily, at Woo, we have figured out a way to remove the guesswork.
We were able to gather the salary expectations from software engineers from dozens of major tech companies. It is our hope that this information, which was given anonymously, can benefit everyone from software engineers to companies.
The Woo Wish List: A Unique Data Source
To begin the job search process with Woo, potential candidates fill out a detailed "wish list" of their expectations.
Questions range from the city they want to work in to the technologies they want to work with to the salary they want to earn. Once the "wish list" is complete, the data is incorporated by Woo's matching algorithm, and based on these expectations, candidates get matched with opportunities.
Because this information is rationalized and discreet, the data collected during this process makes a big difference both to professionals and the companies that hire them.
How Software Engineers Benefit from the Data
As a tech professional, applying this information to an efficient job search can help you get the results that actually match your qualifications.
This data can be used to adjust your demands, help you realize that you could be doing better, or allow you to feel reassured that you are getting your worth.
Here are the salary expectations of software engineers at the leading tech companies of 2019: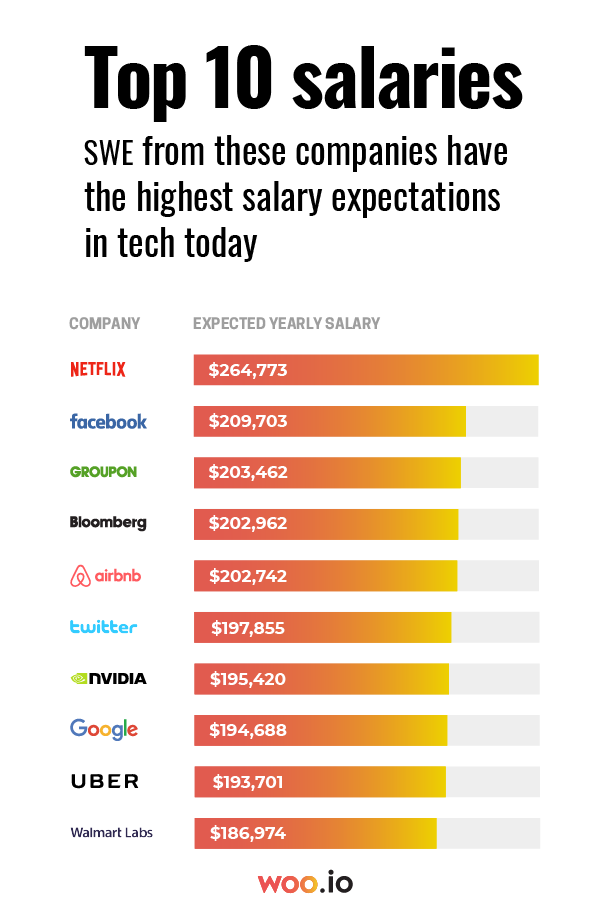 The above data shows actual salary targets of Woo candidates (as shown in their profile). By using the Woo matching algorithm, candidates will only receive notifications of opportunities if there is a match across the board between their expectations, skills, and experience, and the company's offer.
The Advantages of Discretion
These valuable insights are unique to Woo in order for companies to gather reliable insights into software engineers' true salary expectations.
Because Woo keeps this information confidential, candidates are more likely to share their honest expectations when they know it is truly anonymous. Once both sides show interest, the company can view the candidate's desired salary.
"On the employer front, it helps companies engage with people who are considering looking for a new job, but aren't ready to come out of the shadows and risk being seen by their current employers," says Kotzer.
Information Flow is Good for Everyone
Not only does this salary data serve companies' interests in a big way, it also helps software engineers discover their market worth. This information reveals what other firms could be offering, allowing your company to stay competitive so you can attract top talent.
---
Woo specializes in connecting experienced tech professionals who are discreetly exploring new opportunities to companies with the right job for them. Its machine learning technology matches criteria from both candidates and companies, resulting in an efficient process and the highest conversion from introduction to interview in the market. Since 2015, Woo has worked with more than 500 customers including Lyft, WeWork, MongoDB and Quora successfully bringing them quality hires. To learn more, please visit: woo.io  
.