The Rise of the Social Media Stalwarts
In 1997, the first recognizable social media site was built.
Six Degrees allowed users to upload a profile and friend other users on the website. A few years later came the introduction of MySpace and LinkedIn.
It wasn't until after the invention of blogging that Facebook and Twitter became available to the public in 2004 and 2006, respectively.
As these soon-to-be titans of industry started to be introduced one by one, there was no question the public was thirsty for more. And no social networks could do wrong.
Perhaps it was the lack of technology available at the time or the fact that ignorance was bliss, but as the spotlight started to be shined on the social media stalwarts like Facebook and Twitter, the mighty started to fall.
The Collapse of the Social Media Stalwarts
The inevitable crash of the social media giants has been slowly happening over the past two or three years.
From privacy breaches to data hacks, some of the titans of the industry (see: Facebook) have taken a big hit.
But to see where everything went wrong, it is crucial that we rewind to 2006—just two years after the social network was born.
It was then that Facebook introduced its News Feed feature to users. This feature provided a curated look into their friends' updates on the site instead of forcing them to visit each friend's page to see recent activity.
At the time, the social site had an estimated 8 million users, and a large portion of them were unhappy with their information being broadcast to any and every friend they had on the platform.
Fast forward to 2018 and Facebook is being plastered all over the news for collecting private information about its users on their own site as well as third-party websites.
The social network was also being ridiculed for knowing about a massive data breach and not doing anything about it.
Twitter was also in hot water in 2018 for a glitch on the social site that left more than 330 million users susceptible to a data breach.
A Snapchat data hack the same year left the phone numbers of 4.6 million users exposed. Needless to say, the once indestructible social titans are taking a hit—and it's big.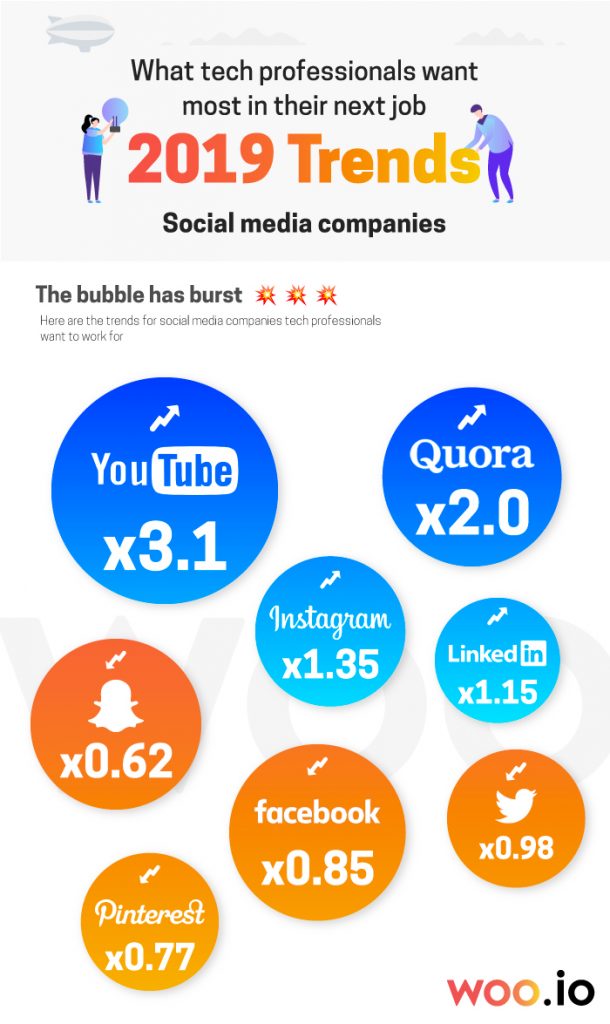 Popular Social Media Companies
At Woo, our research revealed that this negative press has a direct impact on the social media companies that are most likely to attract quality tech professionals. The social media companies who have managed to stay out of the press and maintained a positive appearance are also the most sought after when it comes to employment. Here are some of the companies tech professionals are most interested in for their next job.
YouTube: The online video-sharing platform is known for its creative, flexible environment. The company's gorgeous office boasts a full-length lap pool and a putting green—proof that they put a focus on culture and office environment.
Twitch: As one of the newest social media networks around, Twitch is an exciting place to be. The live video streaming platform company offers great perks and benefits for its employees, who are said to be very passionate about the product they're creating.
Instagram: Despite being owned by Facebook, Instagram is the more popular of the two in terms of employment. Current employees claim they have a great work-life balance, incredible company culture and ample opportunity to advance their career.
LinkedIn: Notorious for investing in its people, LinkedIn encourages its employees to grow in their careers and work smarter, not longer. The company drives its employees to perform their best and constantly bring innovative ideas to the table.
Unpopular Social Media Companies
Our research showed us the same results for social media companies like Facebook, Twitter, and Snapchat, who have had plenty of negative press over the past year. What we found was that these companies fell at the bottom of the most-desirable jobs for tech professionals.
Snapchat: It isn't hard to find the negative press from employees—both current and former—of Snapchat. The complaints range from poor management to a negative work environment and there have even been some claims of a 'sexist' culture. In fact, it ranks lowest among the popular social companies as a company tech professionals want to work for.
Facebook: Perhaps it's the rough couple of years in the media that Facebook has had or the lack of popularity with the CEO, but it is no longer one of the most popular social media companies to work for. Despite the fact that it owns Instagram, it has fallen significantly as of late, with many employees complaining of little to no work/life balance.
Twitter: There are a number of reasons Twitter has become a bad company to work for, including a lack of work/life balance, a high turnover rate and frequent negative press.
Pinterest: Nearly as obvious as Snapchat, the Internet is full of negative reviews and experiences from people who've worked at Pinterest. Bad management and a bad culture were at the top of the list of things employees dislike about their time with the company.
It's no secret that the social bubble has burst. The once-mighty Facebook and Twitters of the world are now being overlooked for companie like Twitch and LinkedIn. As we continue to evolve in our social media journey, it is inevitable that the previous titans of industry will take a back seat to the more responsible companies of social media.
---
Woo specializes in connecting experienced tech professionals who are discreetly exploring new opportunities to companies with the right job for them . Its machine learning technology matches criteria from both candidates and companies, resulting in an efficient process and the highest conversion from introduction to interview in the market.  Since 2015, Woo has worked with more than 500 customers including Lyft, WeWork, Samsung, Audible and Amazon successfully bringing them quality hires. 
To learn more, please visit: woo.io